Hairdresser-themed items. And yes, I grew up in the eighties!
Bag charms are fun items that you clip onto your bag as decoration. The scissor charms are just ornamental and do not function
as scissors. Please note that bag charms are not suitable for use as keyrings.
Custom earrings: there are lots of different pairs but if you would prefer a particular combination that you can't see here, or bronzetone hooks (or both!) then please contact me and I'm happy to oblige. Still the same price.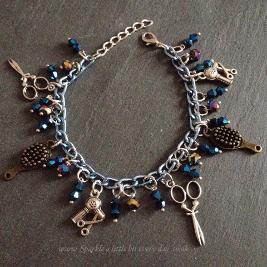 Hairdresser blue charm bracelet
Two types of blue crystals on a blue chain, with silver and bronze tone charms in a hairdresser theme.
Length 7.5" plus 1" extension chain.

£8
Scissors bag charm
Clip on metal scissors charm.
***These are not real scissors***
£2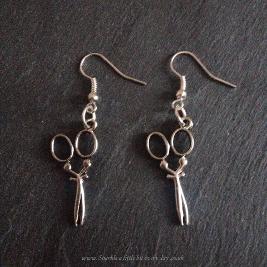 Silvertone scissors earrings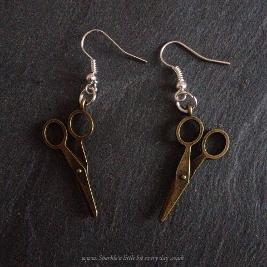 Bronzetone closed scissors earrings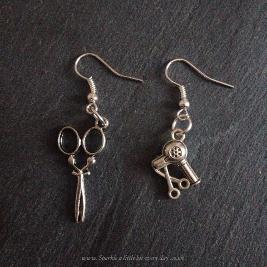 Silvertone scissors and hairdryer earrings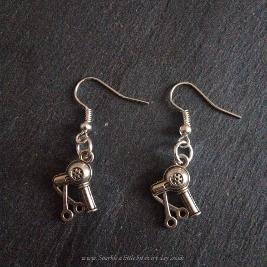 Silvertone hairdryer earrings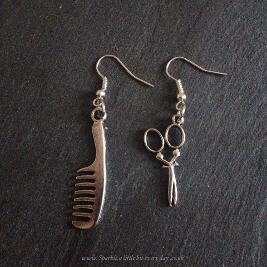 Silvertone comb and scissors earrings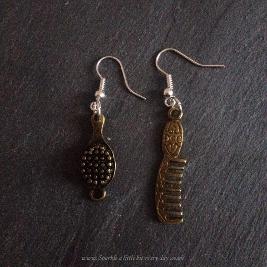 Bronzetone brush and comb earrings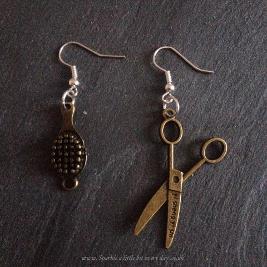 Bronzetone brush and open scissors earrings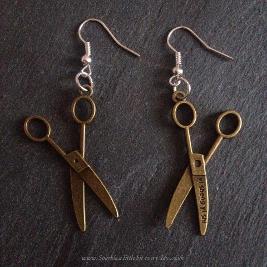 Bronzetone open scissors earrings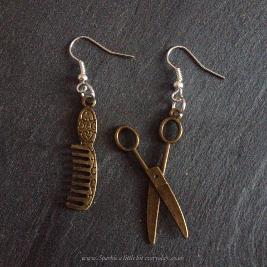 Bronzetone comb and open scissors earrings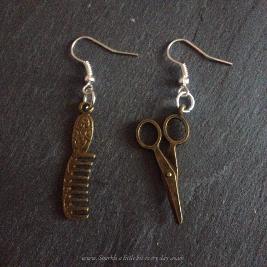 Bronzetone comb and closed scissors earrings
Postage
Flat rate £2 postage charge per order or free for orders over £20.
UK delivery only.
The boring bit
Before buying anything you need to read the page called "The boring bit" as it contains important information that you need to know. Stuff about the terms that apply to the sale, privacy, data protection, all that sort of thing, plus some other useful stuff too. Go on, nip over there now; it won't take you long and some of it isn't boring at all.

A note about sold-out items.....
Because almost everything is unique, you might find that when you get to paypal an item will apear as "sold out". This means someone has beaten you to it before I had the chance to update the website. Sorry about that. I'll update as often as I can (daily at the very least) but I won't always be able to catch sold items in time. Please feel free to contact me if this happens and I may be able to make you something similar. I can't always guarantee a price match, though, especially for special prices. Again, sorry.